This week we're sleeping with one of Hollywood's most sought after trainers, Scott Parker, founder and CEO of TruResults, a personal fitness company which specializes in holistic approaches to a balanced lifestyle. From giving workout tips in Ebony Magazine, training clients such as Niecy Nash, David Banner and Tasha Smith, to being featured on Oprah as an eligible bachelor (he's still single ladies!), Scott is the go to guy for healthy living. He now works exclusively with soulful R&B crooner and darling Jill Scott…yes, he's the man responsible for her transforming weight loss that has had heads turning. Traveling the better part of the year as Jill promotes her new album, Scott has found that the road is more home than 'home' is.
We caught up with Scott as he was leaving to work with Jill on her extended European tour.  From sharing insights on how to work out on the road to his favorite hot spots, Scott gives us a fascinating glimpse of what it's like to travel around the world like a rock star.
WSA: Your job as Jill Scott's personal trainer and body guard requires you to travel extensively. What is your work out regiment when you are on the road?
SP: It varies depending on where we are. When we are in London we like to go jogging around Hyde Park. When we are in Chicago, we go jogging on the lakefront. It depends on where we are, we always try to keep it different.
WSA: So if you can get out the hotel for the workout, you will?
SP: We love getting out of the hotel. We like to experience the natural landscape of whatever city we are in, we're not always in a hotel gym.

WSA: What hotel rates tops with the best workout facility?
SP: It would be the Four Seasons in Dallas. The gym is it's own facility and separate from the hotel. It's a split level facility, the upper level has an indoor track where you can circle around the entire gym. You can look down on the gym while you are running. The gym itself is all state of the art with flat screens. It reminds you of the Equinox Club and Crunch in LA. It's very nice.
The Peninsula in Chicago is another nice gym, it overlooks Lake Michigan. It has a 360 degree view of downtown Chicago. The Mandarin Oriental in Miami has a dope gym. The Setai in New York has an excellent gym, but by far the best one I've been to is the Four Seasons in Dallas and everyone in our crew agrees.
WSA: What exercises can a person do in their room if there is no access to a gym?
SP: You can always do squats, lunges, push ups…any number of exercises in the room.
For the lower body – squats and lunges, for the upper body – push ups, dips, wall push ups. You can get a full body workout in your room with no equipment.
Sometimes if the gyms are too crowded or if we are in certain cities where a lot of people will recognize Jill we work out in my room or her room instead of going to the gym.
WSA: What is the most interesting city you've visited in the past year and why?
SP: I would have to say Paris just because I've never been there, but ironically the hotel we stayed in had probably the worst gym I'd ever seen. They had one treadmill and a 13 inch TV. The room was about the size of a walk in closet – only two people could work out at one time.
But just in terms of travel, I'd never been to Paris, and asthetically it's the most amazing city I'd ever seen. Everything in Paris is a work of art from the sidewalks on up. There are no regular brick walls, everything has sculptures in it. It's just a visually stunning city.
WSA: Do you prefer a certain hotel chain?
SP: I don't necessarily prefer certain chains because I have to be wherever Jill is, my room is usually next door to hers just for safety purposes so I'm always in a 5 star diamond rated hotel anywhere in the world.
WSA: You are headed to Europe for a few weeks. What five items would we find in your bag for the flight?
SP:
My Macbook.
My Beats by Dre headphones so I can reduce all the noise around me to get sleep on the flight.
Usually I check my toiletries but going to Europe I'll have them with me on the flight because it's a 12 hour trip. At some point I'll want to get up and brush my teeth and be halfway decent.
Some type of book, whatever I'm reading at the time. This time it will be the book on Steve Jobs that I just picked up.
Something to eat. usually my staple travel food is almonds. They have a little protein in it and it takes the edge off of the hunger. It keeps me from not being at the mercy of whatever they serve on the flight.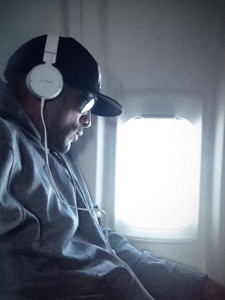 WSA: What cities will the tour visit in Europe?
SP: London, Paris, Warsaw, Oslo, and Amsterdam.
WSA: How many days do you travel on the road during the year?
SP: This is a unique year because Jill put out an album. We traveled to all the major radio markets in the country, then we did a six week tour where she toured with Anthony Hamilton and Mint Condition.
This year I've been on the road moreso than I've been at home. It's funny because I've traveled so much that the road has become a more comfortable place for me than home.
WSA: That's interesting. How do you make a hotel stay or the road home?
SP: I've learned how to put my music through a flat screen television so I can make the room more like a surround sound home theater situation like I'm at the house. I know how to eat in all the major cities. I have restaurants I can go to and eat very healthy. I know where all those spots are all over the country, so as soon as I hit the ground in New York, I know exactly where I'm going for breakfast. I've learned how to do laundry at the venues where we have our shows. At any major venue where there are team sports being played, there are free laundromats, so you can be on the road for any period of the time and not be worried about dirty clothes.
WSA: I'm guessing the crew you are with serves as a family, so to speak, and helps make it home as well.
SP: Yah, we have certain rituals we do. Every time we travel to a new city as soon as we get to the hotel we all go work out together…drop your bags, put your workout gear on and hit the gym. It kind of keeps the team camaraderie going.
WSA:  Has there been one hotel stay that has stood out?
SP:  Again I would have to say the Four Seasons in Dallas. If someone dropped you off and didn't tell you where you were you would think you were in Mexico or the Caribbean somewhere. It's literally like another world. The pool is unbelievable, they have waterfalls, people coming by misting you if it gets too hot. It's just very opulent. Everything there is just top notch. They have different works of art that build in the lobby that they change everyday. One day it could be a stone structure one day, abstract art or a gigantic 20 foot floral arrangement the next. You walk out and you're like 'damn there was a replica of Stonehenge here yesterday and now they have calla lillies and orange roses here, how do they do that?'
I also like the Delano in Miami, it is very nice and sexy. In the swimming pool they have speakers underneath the water, so if you are swimming under water you hear the music very clearly like you have on headphones and it's not even distorted. I still don't know how they pull that off. It's dope.
The Mandarin Miami, you literally would think you were in an Asian country. Everything is authentic.
The spa at the Setai in New York is top notch, they paid a lot of attention to detail there.
However, I would have to go back to Dallas and the Four Seasons. We were just there in August, and we couldn't believe it. Everyone from Jill on down was like 'this may be my favorite hotel in the country'.
WSA:  How do you sleep…in PJs or in the Buff?
SP:  I sleep in cutoff sweat pants and t-shirts.
WSA: Always ready for a workout, hunh?
SP: Always.
You can reach out to Scott on Twitter @scottpfit