If anyone is a pro at global traveling, it's this woman – Michelle Greene.  Her career in the IT industry has taken her to just about all points across the globe, even allowing her to live in Sweden for close to four years.  She's currently the tech head honcho at Johnson Controls, Inc. where she serves as the IT Director for Global Lines of Business. She's my travel hero, at one point she had a passport full of stamps and was literally waiting to get a second one to start the stamping again.
WSA:  You travel globally for business. What are some of the cities you've been to?
MG:  Beijing, Barcelona, Copenhagen, Stockholm, Tokyo, Hong Kong, Brussels, Chennai.
WSA:  Which city would you go back to vacation and why?
MG:  Barcelona.  The people and cuisine were great and the weather was amazing. You could tell the city was interesting but since I was there for business, I didn't have the chance to explore the city. I would love to go back!
WSA:  You lived in Malmo Sweden for 3.5 years.  What is one thing you miss about their lifestyle?
MG:  The quality of life.  The Swedes move at a more relaxed pace.  This forced me to slow down and take time to really enjoy life.
WSA:  You've stayed in dozens of hotels during your career. Which one stands out and why?
MG:  Business Travel – the Hilton in Beijing.  This hotel gives you the familiarity of the Hilton brand in the U.S. and at the same time it has the Chinese culture twist.  Personal Travel – Rome Cavalieri Hilton, this hotel is amazing.  The service is outstanding and I have and will continue to recommend this hotel to others.
WSA:  What are five things I would find in your carry on bag?
MG:  Bose Noise Cancellation Headphones, iPod, change of clothes, Sugar Babies and Isotoner slippers.
WSA:  What are three tips you would give to travelers going overseas for the first time?
MG:  Always have a change of clothes in your carry-on bag in case there are issues with your luggage, dress comfortably for the flight and be open to new experiences…restaurants, culture, etc.
WSA:  Personal question, what is the restaurant you took me to in Sweden, it was sooo good! I hate to admit it, but it was the first time I tasted goat cheese, and I fell in love with it!
MG:   It was Artisderna. The lamb was my favorite dish.  However, my favorite restaurant in Malmo was Twisted Torso.  It was a nice mix of a restaurant and a lounge – you could enjoy happy hour and appetizers or a full dinner.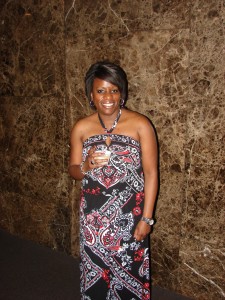 WSA:  What is one city you haven't visited but you want to go to?
MG: Singapore.
WSA:   What are five songs you listen to when traveling?
MG:  Long Walk – Jill Scott, Share My Life – Kem, Drop It Like It's Hot – Snoop, On & On – Erykah Badu, John – Lil Wayne/Rick Ross.
WSA:  If you're brave enough to answer this question, do you sleep in pjs or in the buff? MG:  PJs…….I love pajamas! I like PajamaGram. My friend started sending me pjs for my birthday every year and they have become my favorite!