Eddie Robinson has seen his share of American cities while playing in the NFL for 11 years. As a dominating force, who made it to the big game, Super Bowl XXXIV, he took time to enjoy the culture in various cities despite the taxing travel schedule a football career brings. Retired, but still heavily immersed in sports as a college football analyst with ESPNU, Eddie still makes time for travel…but on his own time these days. This week, in 'Sleeping With', Eddie shares with us his favorite places in the world, and what's really inside that curious back pack of his.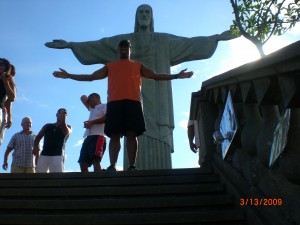 WSA: You traveled extensively through out the country during your NFL career. What was your favorite city that you played in and why?
ER: My favorite city to play in was Pittsburgh. I was a Steelers fan as a kid and the first time I saw Old Three Rivers Stadium in downtown Pittsburgh I couldn't believe I was really in the NFL. Downtown Pittsburgh reminds me of Gotham City from the Batman movie. The older buildings have a very grand design.
On a side note OJ Simpson was standing outside of the bus working television for the game. Oilers / Steelers was always a big game in the early 1990's.
WSA: Do you have a preferred hotel chain that you like to frequent?
ER: I frequent the best deal (laughs). I like hotels that have continental breakfast and free wireless. I don't like to pay for parking. Cleanliness and a friendly staff is a must. I'm also a sucker for a fruit basket at the check out counter.
WSA: What are five items I would find in your carry on bag?
ER:  The latest issue of National Geographic magazine – I subscribe, and they have great travel tips; my personal journal – please don't read it, but it's coded to prevent that! (laughs); iPod; miniature flash-light; and a whistle.
There are also various over the counter stomach medications – I keep these items in my back pack/carry on that I never unpack.
WSA: So a whistle and a miniature flash light in the carry on? Interesting…what's the deal?
ER: I was never a boy scout but I'm always prepared. I take my back pack every where I go, so when I'm camping or looking for a place in the woods to read a book I have a light. If there is ever danger or if you're lost a whistle always comes in handy. The miniature flashlight is a LED that is really bright. I look at it like this – if you're looking for something in the dark or the plane is ever in trouble it's good to be the only guy with a light (laughs). The reality is that they are both safety precaution items that you're hoping you will never have to use.
WSA: Name one charming feature that you would recommend to a visitor about each city you've played in: Nashville, Jacksonville, Buffalo, Houston.
ER: Jacksonville – has a lot of nice golf courses. It is a 100% family town- I hope you like the beach! Buffalo – was a blur, I wasn't there long. I do remember a really cool festival that was downtown, obviously buffalo wings were a plenty! Nashville – Natchez Trace Parkway is a really nice drive outside of Nashville. I put a lot of miles on my road bike and would love to cycle the parkway. And Houston – Miller Outdoor Amphitheater is a great place to sit on the lawn and watch a FREE Shakespeare play, Houston ballet or symphony. The summer air is warm and the stars at night are big and bright, it's great to be "Deep in the heart of Texas".
WSA: What are three songs on your iPod playlist now?
ER: Trombone Shorty's 'So Many Roses', that's my homeboy out the Treme' doing it big! Eminem's 'Lose Yourself'. Really good song when your trying to finish a work out. Outkast's Aquemini album – 5 mics in the Source says it all! (laughs)
WSA: What is your favorite European city and why?
ER: I haven't traveled extensively in Europe but I did really like Amsterdam. Great museums and walking the city is such a joy. Every corner offers a different interest. Be sure to look both ways for bicycles…they move along at a pretty fast pace!
WSA: You are from New Orleans, the birthplace of Jazz and and home to delicious Cajun food. What are three restaurants that are must visit?
ER: I like the local restaurants with casual dining over the travel magazine destinations.
1) Neyow's Creole Cafe is my favorite. The red beans and rice with catfish is the Monday special. It's worth staying an extra day for.
2) Crabby Jacks. You have to try the overstuffed shrimp po-boy – the King size feeds me and my son, with a doggie bag of left over shrimp!
3) Drago's Seafood Restaurant. The charbroiled oysters are a must try – I didn't eat oysters until I had this dish.
WSA: In one word what was Machu Picchu like?
ER: Exhilarating!!!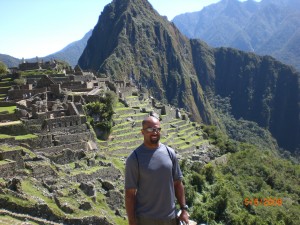 WSA: You traveled to Accra for New Years a couple of years back. How did you ring in the New Year? Is it much different than how we celebrate stateside?
ER: We attended a New Year's Eve party at a guy's house. Ironically, he was Nigerian and I believe in the oil business. It was similar to how we celebrate in the states. It was a really nice party at his house that must have been over 10,000 square feet on a well maintained piece of property. Very attractive, well dressed crowd with really good food and drinks. The party felt more like Miami or LA than Accra, Ghana. Guests were mostly outside and the house was very cosmopolitan. I'm sure the average Ghanaian doesn't attend parties on this scale. Ghana, like most African countries, is a place of haves and have-nots, much like the states.
WSA: As African-Americans, we always hear about returning to the 'Motherland', did you feel a connection when you visited, and if so, was there a single event that triggered it?
ER: I think there is a connection at first but after you're there for a while you feel like it's another travel destination. However, traveling to the slave castle, Elmina was a very emotional experience. Standing in the slave dungeons and visiting the door of no-return would move anyone regardless of race or nationality.
WSA: What were your lodging accommodations when you were in Accra?
ER: We stayed with a friend who lives and works in Accra. It was good to experience how a resident Ghanaian lives on a daily basis. The affluent and some upper middle class have drivers and house keeper/cooks who take care of the property…of course that was a good experience!
WSA: You're a connoisseur of tropical locales. What is your favorite location and why?
ER: Jamaica. I try and travel there once a year. Being the birth place of Bob Marley and Reggae music is only part of the attraction. The people are very genuine and direct – 'Ya mon' (laughs). The food is great and is spicy like Cajun food.
My advice for readers is to get off the beach and explore the mountains for a real adventure…
WSA: Optional question…how do you sleep…in the buff or in PJs?
ER: Guys don't have buffs so I'm assuming you're meaning nude.
WSA: Yep…
ER: To answer your question, nude!