So here I am, the morning of Day Three, the last day of my vacation in Miami, and I'm staring bewilderedly at my suitcase. It's basically an explosion of clothes that didn't see the light of day on this trip, and now I have to take the time to repack this monstrosity. For a three day trip, I wore two out of the eight clothing options, and will be recycling the shorts I wore yesterday, for another round today for a trip to the Everglades.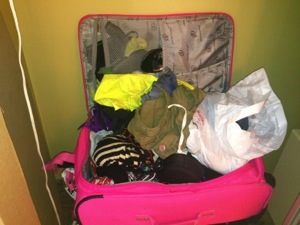 It bugs the heck out of me that I overpack. I even brought a smaller suitcase so I couldn't throw extra stuff in the bag, but I was still able to bring excess madness along for the ride. My daughter opened the suitcase on our first night in the hotel and asked sarcastically 'well goodness, how long are you staying?' I sarcastically replied, 'until Friday, you're actually flying back home on Wednesday.' Mean, I know. I always do a great job of planning out my outfits, then in a last rush before we head out the door, I find an excuse for bringing additional clothes, just so I can have a feeling I have everything I need in any situation. There is a remote chance that the temperatures will drop in Miami in the heart of June, and my thick hoodie sweatshirt I packed will be right on time, correct?
So this morning, I'm declaring a new 'artist edit' rule for packing. There's sage advice for graphic designers that basically says after you've finished a design piece that you absolutely love, edit it yourself by taking away one element. I'm applying that rule to my packing but I'll commit to taking away not only one, but two outfits.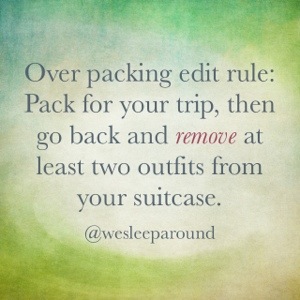 By the way, the weather in Miami the past few days has been gorgeous. It's been high 80s, and sunny. There was a brief rain shower yesterday morning. On our first evening here, I wore a strapless sundress out to dinner. Yesterday at the beach I wore a pair of shorts, and a breezy quarter sleeve jean shirt over my bathing suit that I could slip in and out of pretty quickly to get into the water. Last night I wore the same outfit with sandals sans the bathing suit. Today, I'm recycling the shorts and throwing on a light fresh neutral t-shirt. See only 2.5 outfits, for a three day trip, that's a vacation! Now back to repacking…
By the way, if you have challenges with bringing everything you need on vacation, check out my Packing List. It's guaranteed that you'll have everything, but make sure you only take what you need!
Do you have any packing rules when you're getting ready for a trip?