Black Friday watch out – here I come!  I admit I'm one of those people who scour the circulars after Thanksgiving dinner searching for incredible deals to be snatched up at 4 am.  I'm already building a Black Friday wish list with the five items below leading the pack.
1) iPad keyboard.  I've tried a couple of different brands so far and I'm still not happy.  I'm looking for something functional and sturdy, basically something that makes sense.  I'm already looking at the Bluetooth Keyboard from Brookstone. They come in an array of bright colors (i'm leaning towards the hot pink) and they serve as not only a keyboard but a cover and a stand as well.  Another keyboard that has recently caught my eye is the the one by Tumi. I definitely need to find one with great usability sense, and more specifically I need to find a deal, these hot mamas can be pricey.
2)  Nikon 1. Don't get me wrong, I love my Nikon D70, however I need a smaller camera that I can throw in my purse that doesn't take up a lot of room. I've tried a couple of blogging video cameras that have still photography capabilities but they don't quite live up to what I need.  The Nikon 1, the red one at that, may be just what I need.  I'm crossing my fingers and toes hoping it's on some store's deal list.
3)  New suitcase/carry on bag.  My poor Tumi needs to be retired.  I love her though…the spring melon color always stands out and gets compliments from fellow travelers. I also love that the bag is roomy yet still small enough to take on board or throw easily in the backseat.  However, the more I travel the more I want a bag with wheels, my 100 pound frame is feeling the pain when I walk through airports. On many occasions I find myself actually dragging the bad boy when I get too tired of picking it up. I've started a search for a replacement, but no bag has lived up to the cuteness factor of the Tumi I have now.  Here's to a great find on Friday though.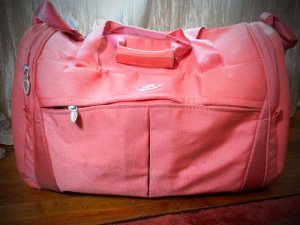 4)  Travel size steamer.  Hotel irons never really cut it for me…they never get too warm – leaving my clothes still wrinkled, or they overheat – leaving me with iron burns on my garments. Or hey, it may be me…I may not be the best ironer.  Anyway, I'll be looking for a travel size steamer that can get my wardrobe picture perfect when I'm on the road.
5) Anything from Gaga's Workshop from Barneys New York.  How cool will it be to get something from Lady Gaga's ecclectic collection of items.  I'm not one of her 'monsters' but I do have mad respect for the lady. She's busted on to the music scene bucking the sex siren trend and leading the way with her own weird funky style.  We need more of her to show the world that it's okay to be your own person. On top of that Barneys' is donating 25% of the proceeds to the Born This Way Foundation.
What's on your Black Friday list?