My mom and I traveled to Sunrise, FL with plans to see Frankie Beverly and Maze at the Bank Atlantic Center during Thanksgiving weekend. It was a quick trip, arrived Saturday afternoon, went to the show on Saturday night and left Sunday (after some heavy duty shopping). Since mom sprung for the concert tickets I took charge of finding the accommodations.
I've never been to Sunrise but after a quick Google search I found that it was close to Fort Lauderdale. I figured I'd take a chance and we'd make a hotel reservation once we got to the area and got our bearings straight.
So our road trip begins and we get to Sunrise. Since we didn't have a definite destination we headed straight to Sawgrass Mills Mall, a beast of a mall for those not indoctrinated. After what felt like forever of hunting down a parking space, I spotted a Doubletree and told my mom to head there to see if we can get a room. It was right across the street from the mall and we were in luck…there was availability, they also had a shuttle to the mall, and a shuttle to the arena for the concert…Score!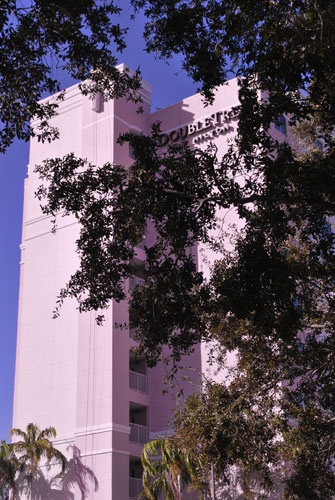 The one thing my mom noticed when we got into the room was that it didn't have a stuffy smell…she immediately deduced that the hotel must be newer because it lacked the faint mildew smell. Typical faint mildew smell? Ummm Mom what hotels have you been staying in? Anyway, come to find out she was right on the money…the hotel had just opened and was actually having a grand opening reception that evening.

The hotel was nicely appointed and convenient. So much so, the acts from the concert stayed at the hotel as well because of the location. The only thing out of sorts was there weren't any cookies at the front desk, what's up with that Doubletree?
This hotel is for you if:
You love to shop! Sawgrass Mills Mall is across the street from the property. Take the shuttle over or enjoy a nice afternoon by taking a walk over.
You are in town for a concert. Again, the shuttle dropped us off and picked us up at the Bank Atlantic Center. It's literally minutes away from the property…extremely convient, so much so that the talent stayed at our hotel!