Headed to the Hilton Orlando this past Saturday, I just knew I was going to walk into a sterile hotel outfitted for business travelers and conference goers. The property is attached to the Orange County Convention Center right off of the touristy International Drive. I was already in the mind frame that I was going to see sterile walls, cookie cutter artwork topped off with a  mundane backdrop. Boy was I surprised. Walking in I found myself in a warm lobby with chic decor, beautiful lighting and oversized vases (which I love).
The double we had was was a standard appointment.  Nice decor, nothing garish. The best part about the room were the Peter Thomas Roth toiletries in the bathroom.  I loooooovvveee the body wash, and the refreshing smell helped me wake up after sleeping past check out time the next morning.
After doing a mad dash to get out the room and trying to catch the breakfast buffet, I finally made it to the Bistro with a minute to spare for breakfast. The cooked to order omelet was great, but what I couldn't get enough of was the strawberry yogurt which was spooned out in a cute little container. Not being an avid yogurt eater I surprised myself when I asked the waiter for a second helping and what the brand name of the yogurt was (he didn't know, so I guess I'll have to make another trip there to get another taste of it).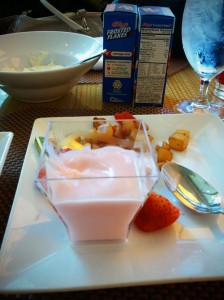 I visited the pool area after breakfast and wished I had my bathing suit to jump in and so I could be a little lazy on the lazy river. It was the middle of November but still warm enough for water fun.
The association with the convention center may be deceptive but the Hilton Orlando is definitely a property that can suit the conference goer to a family on vacation.  It has it all for an Orlando hotel, the resort feel along with amenities to suit any business traveler and event professional. Thumbs up Hilton Orlando!
Is It For You? This hotel is for you if:
You like the resort feel.  Ample pool space, pool restaurant and bar, lazy river, what more does a resort need? Oh okay, I know a lot more…but the initial lay of the land got my attention and moved this hotel up a notch as just another conference hotel.
You are a solo traveler. The hotel is close to International Drive, outlets, and restaurants. You aren't far from the action if you are traveling alone.
You are a conference event planner. As the saying goes, 'location, location, location'. This hotel is connected to the North/South Orange County Convention Center. Your attendees are one step away between paradise and a conference session.
You love strawberry yogurt without the fruit bits mixed in. I can't say enough about how much I loved this yogurt! Please Hilton send me some!
Yay or Nay – Would you consider staying at this hotel?