Still trying to figure out what to get Pops for Fathers Day? Here a few ideas for the travel dad in your life.
1. Spa Appointment: If Dad has a trip coming up, call ahead and book a spa appointment at his next hotel stay. Spa days aren't something that many men treat themselves to, but I'm sure one won't turn it down if they are handed a gift certificate for a facial, or great massage. If the hotel is lacking a spa, check out spafinder.com, they sell gift certificates that can be redeemed at over 20,000 spas and fitness studios worldwide.
2. Airline Gift Certificates: My dad travels on Southwest a lot, and one year I purchased a gift card from the airline to put towards his next trip. Airline gift cards are a great way to go because depending on the amount purchased, you can easily cover the cost of a trip or help offset the price with your contribution.
3. Doettling Guardian Travel Safe: This sturdy, handsome case offers ease of mind when traveling with high end pieces. Dad can store up to six watches, currency and important documents and still travel in style. How sturdy and safe is this case you ask? Sledgehammers can't destroy it, and it also has a GPS transmitter installed so it can be located if lost. This cool, James Bondish case comes at a cost, it starts at $16,870…but hey, isn't Dad worth it?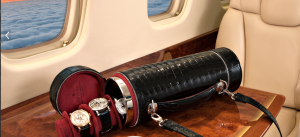 What last minute gifts would you add to the list?